Just got back from Bukit Tinggi. Am

POOPED!

(And I still haven't done my essay- Not because I'm lazy, but because I've come to the conclusion that the topic is stupid and it hurts my brain to think about it.

Woohoo.

Long bracket!)
We were there to celebrate my mom's forty-tenth birthday. Just a one night stay at the french village. It was quite boring actually, the french village

really is

only this one street you have to keep walking up and down over and over again. But the weather was nice and cold and it wasn't too crowded.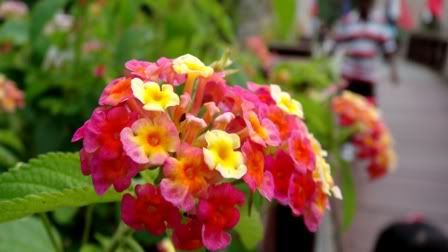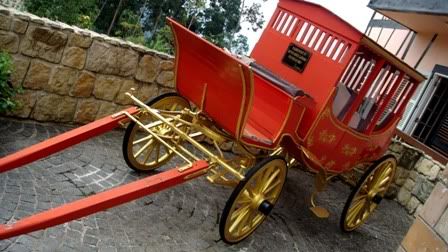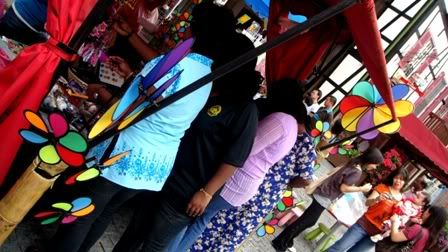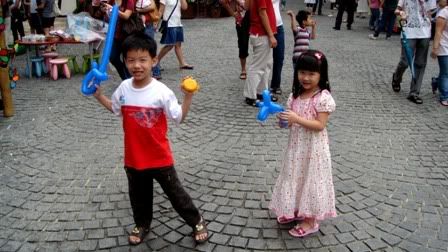 Ethan and Esther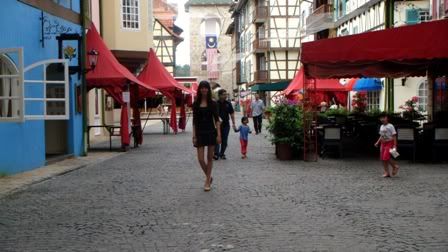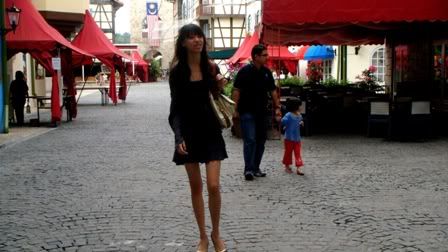 Cousin trying to take Sex and the City shots of me.
Luckily my cousin was there; On my mothers side there is a lack of cousins my age, the only company I had was her and she's only 13, but probably has more maturity and responsibility in her pinky finger than I have in my whole body.

(Which coincidentally, has about the same mass as her pinky finger. Lol!)
Ann Fleuryn and Esther in mini-kimonos! Cute sial. Tourists kept taking photos of them.
We went to the Japanese Tea Garden and rented out kimono's to camwhore in. I don't think the lady half appreciated my enthusiasm- After getting tied into mine, I hitched the kimono up to my knees, exited the teeny hut and went

"Konichiwaaa bittchess!"

*Cue tourists laughing and aforementioned ladies shaking their heads at each other*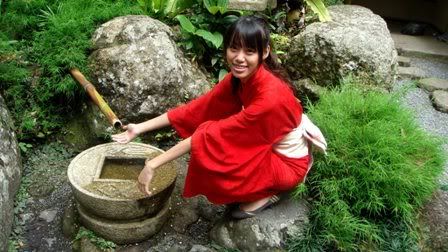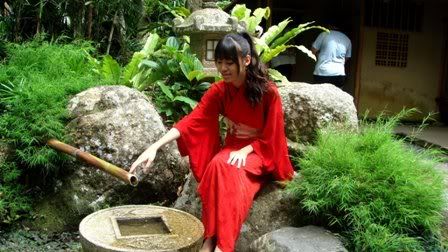 Hahahaa. I have no idea why I look so

gu niang

in photos.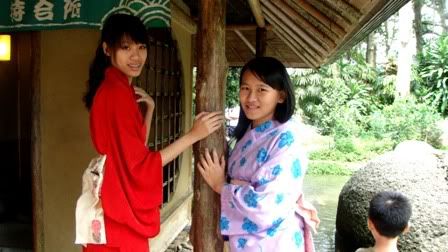 Oh yes. And this is me and the aforementioned cousin with the maturity and respondsibility in her pinky fingers.
Me, Jing, Esther and Ann Fleuryn
Super teeny

japanese hut. Don't know whether its built on miniature scale or whether I am just not fit to be Japanese.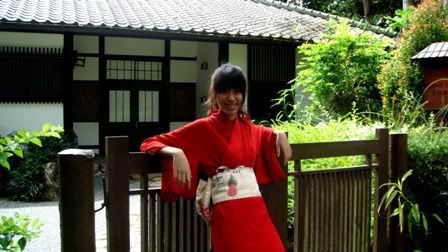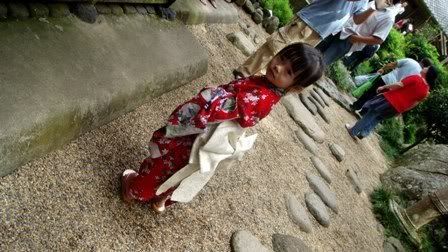 Argh.

So frickin' cute.

It was like a press conference behind her with all the cameras out and flashing.

His name is Simon and he's such a sweetheart! He kept nuzzling into me. I was half terrified cause his teeth were GIGANTIC!

- I thought being nominated was a big deal until I realized just about everyone else was nominated too. =/ Still. Thank you
Samantha Chow
! Lol. Next time wanna tumpang my car I'll rush over to fetch you!
X)
PS: Aite. Back to real life. My essay- Failure is proof that the desire wasn't strong enough.